I wanted to take a moment and tell you how AWESOME the transition to Ocean State Oil has been
I wanted to take a moment and tell you how AWESOME the transition from ______ to Ocean State Oil has been. From my first contact with Donna F I have noticed the difference. Today our order showed up as I was showing the driver where our tanks were he asked "is this our first delivery here" I explained it was the third delivery his next statement is what prompted this email. "how has our service been" this was his main focus!! AMAZING how employees and a company who genuinely care can change a simple oil delivery. I feel these interactions are vastly important as I know you primarily only hear the negatives.
Parts Manager
Volvo East Hartford
Switching Over to Ocean State Oil was Virtually Seamless
We would like to extend our appreciation for the excellent service we have received over the past couple of years. The transition in switching over to Ocean State Oil was virtually seamless. The customer service person, with respect to response time, was tremendous. All the drivers who have delivered product have been outstanding, very respectful and meticulous. We've appreciated the quick responses on our inquieries for the new products. In addition, the equipment supplied for our operation for dispensing product has been of first-rate quality and the response time for any malfunction has been less than 24 hours.

We look forward to continuing our business relationship and appreciate your excellent pricing. We commend the organization for the exceptional people provided to us for contacts.
Vice President and General Manager
Charles George Companies
Excellent Service and Superior Products
J Derenzo, a large Massachusetts based construction company, has done business with Ocean State Oil for many years now. They provide us with excellent service and superior products. We recently had them install lube equipment in our shop and the job was done professionally and in a timely fashion. We also have been more than satisfied with the performance of Chevron Delo's XLE 10w/30 oil in our equipment. We had tried another brand and quickly noticed a big performance drop off so we came back to the Chevron Delo product. I know that I can count on Ocean State Oil and Chevron to help keep our equipment running and to maximize the life of the equipment.
Construction Fleet Manager

I Have Become a Believer in Ocean State Oil and Chevron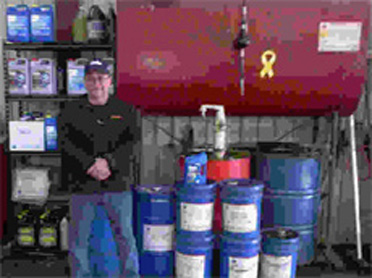 This truck has been a log hauling truck with a crane, loading logs in the woods and then transporting them to the saw mill 10-12 hours per day 6 days a week it's entire life - since I purchased it in 2000.

I had the engine torn down by a friend who use to work as a technician for a Cat dealer. It was torn down because of coolant pressure in the radiator overflow tube leaving coolant in a puddle on the floor each night.
He found the top rubber o-ring seal on one of the cylinder liners was broken as well as a leaking head gasket on the same cylinder. Because the engine had 36000 hours on it with PMs done at every 400 hours, I decided to completely rebuild it.

The man who tore it down was amazed at the very small amount of wear on the rod bearings, main bearings, and crankshaft. Pistons and liners were in excellent condition. The original cross hatch cylinder liners were still in decent condition. There was very little scoring on the rocker arm contact points. Along with the Delo 400 CI-4 Plus, I use Delo Gear ESI 80/90, Delo Trans ESI, and Delo Grease HD for all of my equipment. Since John Costa of Ocean State Oil began selling me the Delo line of products I have become a believer in Chevron over any other oil company who has come in my door.

I appreciate the great service Ocean State Oil has given me in regards to my lubrication business.
Forest Products/Forest Products Transport
Jim Passarello LLC